Wondering How Many Songs to Pick? 
You'll need: 
a wedding party song (if you have a wedding party). You can also optionally choose two wedding party entrance songs if you'd like a separate song for the parents, groomsmen, etc.
an entrance song for the bride or member(s) of the wedding couple
an exit at the end of the ceremony
Optional:
a song during the middle of the ceremony if you would like background music during a unity candle, sand ceremony, handfasting, or a moment to remember people who can't be at the wedding. If you are having a Catholic wedding please contact me for additional options for the Mass.
And the rest: 
for pre-ceremony, I usually play a mix of classical harp music and slower popular songs such as "To Make You Feel My Love" (Adele) and Grow as We Go (Ben Platt) but if there's anything specific you'd like during this time please let me know. 
for cocktail hour, I usually play a mix of the most upbeat popular covers aimed to please a multi-generational audience (so, anything from Louis Armstrong and the Beatles to Justin Bieber) but if there's anything specific you'd like me to play from my list during cocktail hour, there's a space to enter those on the song form.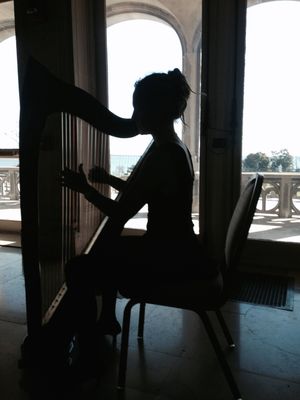 "

Thank you so much for all your hard work! Kevin and I appreciate everything you have done to make our day as special as possible! You have been a pleasure to work with." - --Liz & Kevin, 2019