Best songs on the harp for...... 
a soft and romantic entrance:  Can't Help Falling in Love (Elvis), Thousand Years (Christina Perri), Perfect (Ed Sheeran), Tale as Old as Time (Beauty and the Beast), Canon in D (Pachelbel), All of Me (John Legend), How Long Will I Love You (Ellie Goulding) 
a magnificent entrance or exit:  Trumpet Voluntary (J. Clarke), Canario (M. Praetorius), Wedding March (Mendelssohn), Firework (Katy Perry)
an upbeat and fun entrance or exit: Here Comes the Sun (the Beatles), You're My Best Friend (Queen), Marry You (Bruno Mars), Best Day of My Life (American Authors), Sky Full of Stars (Coldplay), All You Need is Love (Beatles), My Girl (the Temptations), Everything (Michael Buble), Better Together (Jack Johnson) 
a classical entrance: Hole in the Wall (Henry Purcell), Aleman (Thomas Morley), Prelude in C (J. S. Bach), Jesu Joy of Man's Desiring (J. S. Bach), Canon in D (Pachlbel)
a tried-and-true wedding aisle song: Canon in D (Pachelbel), Here Comes the Bride (Wagner), Trumpet Voluntary (J. Clarke), Wedding March Exit (Mendelssohn)
Jewish weddings: Erev Shel Shoshanim, Simon Tov
aisle songs with a jazzy flair: At Last (Etta James), What a Wonderful world (Louis Armstrong), Easily (Bruno Major), She (Elvis Costello), Jazzy Joy (Beethoven arr. Otis)
See more options on my song list page. 

Is there a song that you've always dreamed of walking down the aisle to but are afraid it won't work on the harp? Get in touch with me to see if it's possible on the harp! Most songs are. 
Ready to submit final choices? You'll need an entrance for the wedding party, a bridal entrance, and an exit for the end of the ceremony, and you have the option to choose songs for the pre-ceremony music as well if you'd like. You can use this form or email me a list of your songs.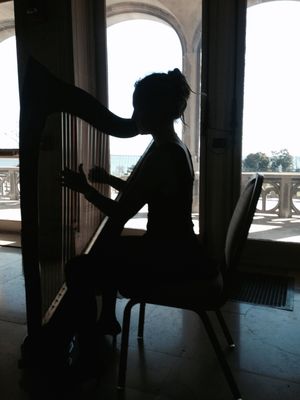 Recent Wedding Requests:  
Songs I've learned for weddings in 2021-2022

Mikrokosmos (BTS)
In Case You Didn't Know (Brett Young)
The Cure (Lady Gaga)
Stay (Justin Bieber)
Wildest Dreams (Taylor Swift)
Andante Grazioso (Sonata#11 Mozart)
The Best (Tina Turner)
White Sandy Beach (IZ)
Married Life (from the movie Up)
You're My Best Friend (Queen)
When Ginny Kissed Harry (from Harry Potter)
Lover (Taylor Swift)
Stay (Justin Bieber)
Mikrokosmos (BTS)
The Best (Tina Turner)
On My Way (Sheppard)
Old Town Road (Lil Nas X)
Grow As We Go (Ben Platt)
Firework (Katy Perry)
What a Wonderful World (Sam Cooke) 
Memories (Maroon 5)
Heaven (Brian Adams)  
You Are the Reason (Callum Scott) 
Better Together (Jack Johnson) 
Theme from Jurassic Park 
Rose Tatto (Dropkick Murphys)
Sweater Weather (the Neighborhood)
While My Guitar Gently Weeps (the Beatles)
Sweet Dreams (Eurythmics)
Good Day (Nappy Roots)
I Get To Love You (Ruelle)  
Easily (Bruno Major)  
Just the Way You Are (Bruno Mars)  
Chasing Cars (Snow Patrol)  
Longer (Dan Folgelberg) 
From This Moment On (Shania Twain)   
She (Elvis Costello)  
When the Stars Go Blue (Ryan Adams)  
I'll Follow You into the Dark (Death Cab for Cutie)  
At Last (as sung by Etta James)  
Annie's Song (John Denver)  
Glitter in the Air (P!nk)  
Today While the Blossoms (John Denver)  
Is This Love (Bob Marley)  
Moonlight Densetsu (from Sailor Moon)  
Senorita (Shawn Mendes and Camila Cabello)  
Raglan Road (trad. Irish)  
Everything We Need (A Day to Remember)  
Beltane Fire Dance (Celtic)  
Faithfully (Journey)  
See my song list for additional options
Contact me to find out what is possible for your wedding
"

Thank you so much for all your hard work! Kevin and I appreciate everything you have done to make our day as special as possible! You have been a pleasure to work with." - --Liz & Kevin, 2019